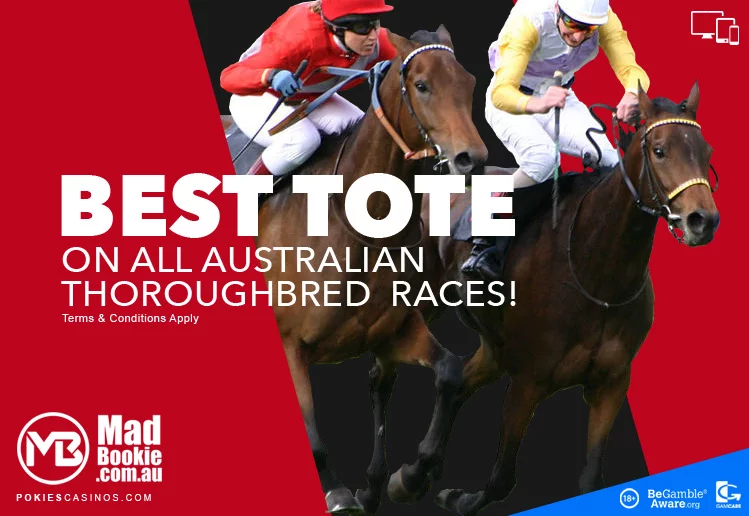 Mad Bookie Overview
08/20/2018
WELCOME BONUS OFFER:
Deposit $100 – Get $100 Bonus
NB Residents from New South Wales are not legible to participate in any promotional or bonus offers.
Turnover requirements apply.
GAMING SOFTWARE:
GenerationWeb
SUPPORTED PLATFORMS
Desktop, Mobile and Telephonic
MOBILE DEVICES:
Android, iOS
BET RANGE:
Minimum Bet AU$1.00
Mad Bookie Sports Book Review
Mad Bookie Prohibited Jurisdictions
Madbookie the History from Down Under:
Madbookie is a fledgling in the world of betting, it was founded in 2015. The company is Australian owned, based in Melbourne, licensed and regulated by the Norfolk Island Gaming Authority. Madbookie's site and app is well designed and one must commend them on the speed of their navigation as it is faster than some of the other betting interfaces.
They pride themselves on their customer service which is efficient, and their live chat option is manned by friendly, knowledgeable and efficient staff they also offer phone support should you prefer the old-fashioned way of communicating.
Madbookie has added a new feature to their site, Sports Zone. This area is filled with articles, racing tips and videos as well as some real down to earth banter and a nice online lounge where a punter can relax between sessions. Their mobile app is one of solid functionality and they have ensured the punter is able to at the drop of a hat navigate to any chosen betting site effortlessly. Constant upgrades are being made to their mobile app to bring it in line with some of the Big Boys in the industry.
The Madbookie team were once punters and they market themselves as normal guys you would meet in the pub on a Saturday night, creating a sense of warmth and a personal touch in the online wagering space, and let's be honest everybody likes the normal , happy go lucky guy in the pub. Take a chance Mate and place a bet using Madbookie.
Mad Bookie Deposit Options
Visa and MasterCard, Poli, BPay, Bank Transfer
Currencies Accepted at Mad Bookie
Mad Bookie accepts Deposits in the following Currencies:
Australian Dollar (AUD)
Various Bets Available At Mad Bookie:
Madbookie Madlays
This product is promoted daily and offers their punters inflated odds for a specific market which is displayed on their Madlays page. The positive about this product is that there are no restrictions on betting to a maximum stake as many other bookmakers do on promotional markets.
Madbookie Mad Bookie Bet Promotions:
Madbookie is not shy on promotions especially when big sporting events and feature racing is happening. During these peak sport seasons expect to see an abundance of bonus bet offers.
Madbookie Player Bets:
This is a unique feature offered by Badbookie to their punters, it allows the punters to tailor their own markets on player stats i.e. goals scored and can be used on a wide range of sports. It is important to note that this cannot be used with bonus bets.
Madbookie Racing and Sports Library:
Thoroughbreds, Harness and Greyhounds
Sports:
Basketball, Baseball, Boxing Cricket, Cycling, Darts, Golf, Gridiron, Hurling, Ice Hockey, Mixed Martial Arts, Motor Racing, Netball, Rugby League, Rugby Union, Snooker, Soccer, Tennis, Volley ball and Yacht Racing.
Madbookie Betting Rules and Options on Runners:
Top Fluc Betting
Means top Fluctuation and can be placed up to the running of the previous race, or when referring to the first race bets can be placed 40 minutes prior to running.
$20000 on win bets
$5000 on place bets
Maximum dividend $101
Best Tote:
Best Tote warrants a dividend to be equal to the highest official win dividend pertaining to the relevant result paid by and Totalizer Governed an Australian State Governments regulations.
Best Tote Wagers $20000
Maximum dividend $101
Best of the Best Betting:
Here a punter is guaranteed a dividend to be the better of the Best Tote and the Top Fluc
Best of the Best Wager $5000
Maximum dividend $101
Best of Two Totes:
The Best of the Two Totes guarantees a dividend to be equal to the highest official dividend paid by NSW TAB and Super Tab
Best of Two Totes Wager $5000
Maximum dividend $101
Middle Tote:
This tote is guaranteed to be equal to the second highest dividend by any totalizer who is governed Australian state Governments regulations.
Middle Tote Wager $10000
Maximum dividend $101
Protest-Pay-out:
Available on all Australian races and only valid if one runner backed in the race
Maximum collect $5000
Exotics:
Referred to as one of the following:
Quinella
An Exacta
A Trifecta
A First Four
A Quadrella
The win limits pertaining to different events can be found on the Madbookie website
Madbookie Rules on Sporting events:
Jockey Challenge:
This bet is a win only.
Australian Football rules:
The official confirmed and declared results are when the payouts will be done, conditions may apply to specific betting options namely extra time an extension of normal time etc
Baseball:
Final score will determine the pay-out.
Boxing:
All wagers will remain in place should any of the following occur, match is cancelled or postponed, but fought within 14 days of original date. Pay-outs will be based on judge's decision on the winning boxer.
More details on all the other rules concerning Sports betting Madbookie offers is available in detail on their website.
Enroll At Mad Bookie Sports Book For The Best Sporting Bets